วันศุกร์ที่ผ่านมา อาจารย์ท่านหนึ่งของผมได้สอบถามเข้ามาว่า พอจะเขียนเล่าประสบการณ์ตอนที่ได้เรียนกับอาจารย์ในวิชา Service Management ตอนเรียน MS Marketing ได้ไหม? ผมซึ่งยินดีเขียนอยู่แล้ว เลยรับปากทันที และได้รับอนุญาตจากอาจารย์ให้สามารถเอามาลง Blog นี้ได้เลย
…และนี่คือหนึ่งเทอมของผมและเพื่อนๆ กับอาจารย์ Yayus ผู้ซึ่งไม่เคยมีกำแพงมาขวางความพยายามในการสร้างวิชาความรู้ให้กับพวกเรา
---
When you imagine of a class of master degree in the oldest university in Thailand, the initial expectation could be a big class with a senior professor standing in front of a class, lecturing the essence of knowledge from his/her lifetime studies. No one would speak up to interrupt the class, they would be all focusing and listening. (Although most of the class in CU do not seem like what you've imagined anyway.)
is it safe to order accutane online Well, Service Management class by Professor Yayus was something else.
I met Prof. Yayus in the first class in 2011. She introduced herself on her experience from various companies she has worked, then I realised that we were both in the same business, consulting. That was my first impression of her, I felt like I met my manager who I have worked with for years.
In General, Service Management is, honestly, not quite an interesting subject for me but Prof. Yayus has turned it into a fun, interactive and, surprisingly, memorable for all of us. Her process of instruction was applied based on real HBS cases to inspire us before the next coming week class. One example that I can still remember was where can i order Misoprostol online Zappos.com case, the one and only online store that has its own mojo of craziness and excellent service quality. We were given the case to study before class about this crazy store. Then, in class, Prof. Yayus showed us how zappos works, the culture and the process. She let us extract the essence of how zappos created a service process. At last, she gave us the choice for further study by giving us the recommendation for reading "Delivering Happiness", an autobiography of Tony Hsieh, founder of Zappos. A year later, I happened to read the book (in Thai version) and it was a big inspiration for me. I later ordered 40 books and gave those to all my staffs in the agency to inspire them.
It wasn't surprise that all of my classmates could understand the contents and made good score on the subject. We can also remember the 2 big surprises that Prof. Yayus made for us, a cupcake day after the final class of the semester that we all celebrated. And a fine porridge dinner after the final exam at Landmark hotel, all of those activities were initiated by Prof. Yayus herself, and we were all appreciated so much.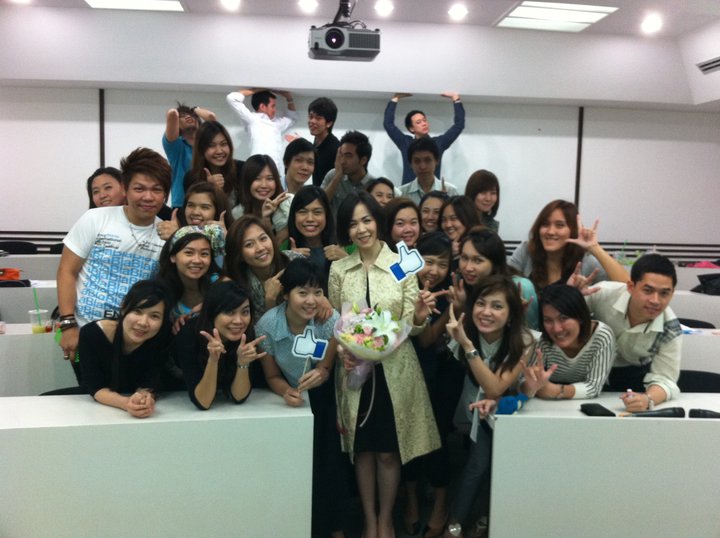 Finally, all I could say about my experience as Prof. Yayus student for Service Management class is that Prof. had taken care of us on all aspects, the well prepared lessons, interactive way of teaching, the help on understanding for each individual, a good relationship with no barrier and, those memorable surprising moments. It's a pleasure for me to be given the opportunity to write about this. And I'm confident enough to say, if anyone of us has a chance to write about Prof. Yayus and her class, they'll surely give a big applause to her like I do.
Sunard Thanasanaksorn (Mac)
MS Marketing (Series 5 – Class of 2011)
Chulalongkorn Business School